i've gotten a lot of inquiries about my "oh holy night" poster and that makes me feel so good! sometimes my projects are a big bust and sometimes they work out real nice and fortunately this one was a winner. and the best part of it is that it is soooo easy (like so easy i feel silly posting a tutorial) and so cheap! (ya'll know i like that cheap stuff.)
my lovely new friend hanni invited me and ava over today so we could make a couple posters and so ava could terrorize her children (sorry about that!) and i love what this poster brings into a room: it's a big statement piece that embodies the reason for the season.
i came up with the idea at church (clearly i was inspired!) a couple ladies and i are decorating the church for an upcoming christmas party, and while no one loves christmas trees more than i do, i thought that the decorations needed a spiritual element. but the church christmas party is on a tight budget, so i was on a creative mission to make a big impact with a small budget. i had seen people post about engineering prints on pinterest before, and i thought hey...maybe we could make that work?
i made the document on photoshop and i made it a really big, high quality file so that it would be able to be blown up without getting pixelated. engineering prints aren't the best quality, but for mantel projects/posters, i think they are awesome and they are super affordable. so i ordered an engineering print through staples for all of $7, and picked it up a couple days later. like i said, i wanted it to be big, so i chose the biggest size they have -- 36x48. while i was waiting for the prints, i went to lowes and found the cheapest wood they have. plywood. if you are rich or fancy, you can totally get other wood, but like i said...baller on a budget over here. so i had lowes cut me some plywood in 36x48 and for the price of $8, i got two 36x48 pieces and a smaller rectangular piece. score!
i picked up my engineering prints and they were a little bit faded on one side, which i was initially discouraged about. i thought that i would have to paint the background or something, but really, once i put it all together, it doesn't show at all and it kind of gives it a chalkboard look. so if you choose to do this project, be warned -- it is probably not going to come out crisp black, but that is okay!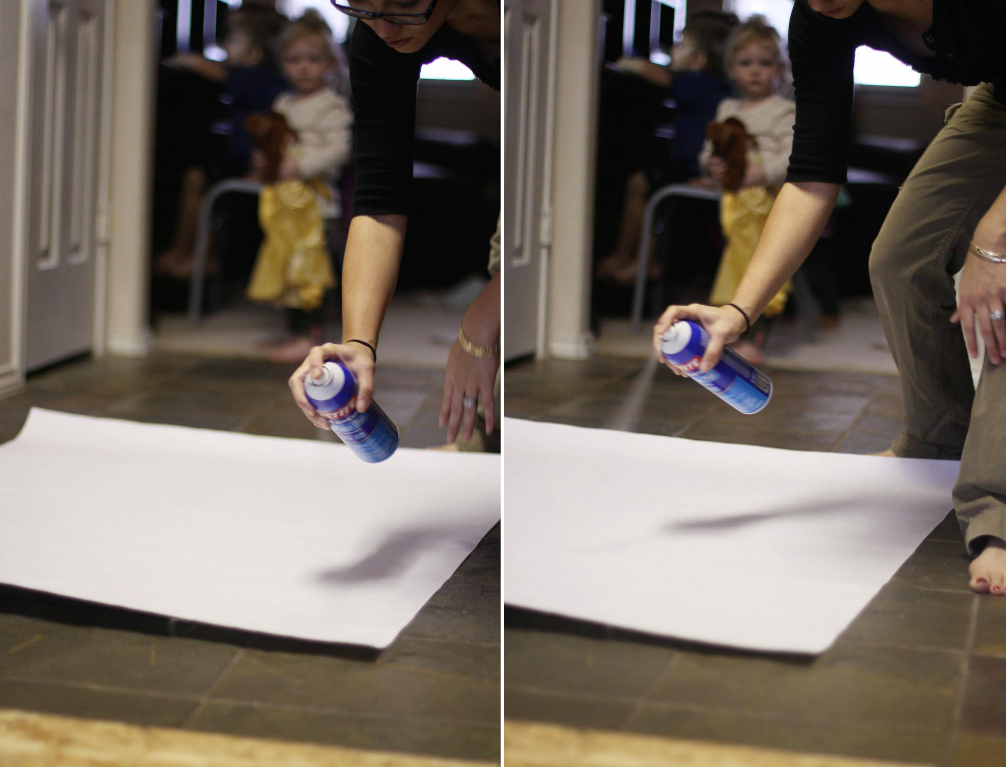 once i had my wood and my print, i bought some spray adhesive. i bought the cheapest kind of spray adhesive for $4, but you could try the stronger hold stuff too if you wanted to. i sprayed both the plywood and the back of the print, let them dry for about 30 seconds, and then put them together. (it's probably best if you have a partner to help you line up the edges so you don't get wrinkles or bubbles.)
then i laid another board on top of it and let it rest overnight. and i wish there was more to this process, but you guys...that is it. it really is that easy! and the whole project (including two extra pieces of plywood and a whole lot of remaining spray adhesive) cost me $20.
so please feel free to download this pdf and make this project yourself to bring some christmas cheer into your home! it is my gift to you, just please pay it forward as so many of you have done to me. as you know, we recently moved into our first home and i can't even begin to tell you how welcomed and loved we feel and how touched i am by all of your kindness. i feel like i want to pinch myself when i think about the incredible women i get to associate with and befriend and it's been such a tender experience to see the Lord's hand in my life, once again. He knows the sincerest desires of my heart and it's been a magnificent testimony of His love to be surrounded by you all. you may not think that the little things like introducing yourself to a new face or setting up a play date makes a difference, but it truly does.
okay i know, i know, gettin' real emotional here. but really, thank you.
also, if you are curious about what church i attend and what i believe, please click here! i live it, i love it, and i know it is true.