hi friends! i am so excited to share a little collaboration with my friend brittany of reality and retrospect. i met brittany on my study abroad in london and i knew instantly that girl had style because i recognized so many pieces of her wardrobe as items i had lusted over in anthropologie. she has an effortless style with a funky flair and her blog will quickly become one of your new favorites...check it out here!
we started a little closet essential series all about the must-have (and probably already there) items in your wardrobe. the first of which is a pencil skirt -- so versatile, flattering, feminine, and so classy.
casual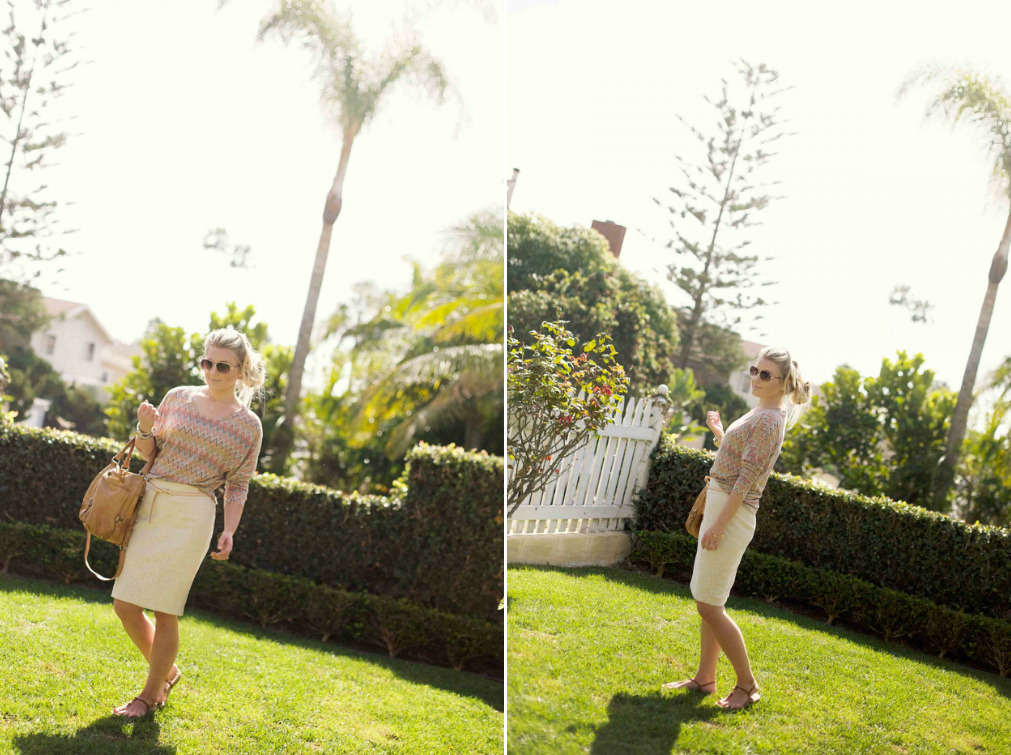 for my casual look, i paired the banana republic cream lace skirt (purchased this last summer on sale for $30) with a casual, batwing shirt with a fun pastel/chevron print from forever21 (I found this shirt in the guest bedroom closet at my mom's house, so I can't tell you when it was purchased, but apparently it belongs to my little sister and I believe in finders-keepers.) i tucked the front of the shirt in and put on a skinny, neutral leather belt from j.crew that really tied everything together. i found this pair of gorgeous tory burch sandals at nordstrom rack a couple months ago (for $99 and worth every penny) and swoon over them every time i put them on.
i piled my dirty/mom hair into a braided bun to dress down the skirt and kept my jewelry casual with a michael kors watch and a couple of gold alex and ani bangles i usually wear every time i leave the house. the tan leather bag is a couple years old from nordstrom, and the whole casual combination really makes me excited for spring and summer and sunshine. can february be over now please? this outfit is casual enough to rock anywhere yet put-together enough for any lunch date, sunday brunch, or baby/bridal/wedding shower.
and don't mind baby girl's little appearance...she is queen diva in training. she sits on my lap every day while i do my makeup and is obsessed with any jewelry. her new favorite thing is carrying around bags. we are in trouble with that child.
from brittany:
we each chose one skirt and created casual and dressy outfits. pretty much anyone will tell you that pencil skirts are a fashion staple, and it's easy to see why. you can style them up, down, tuck your shirt in or out, wear a belt over the skirt or shirt. the options are limitless. for my two outfits i used my leather fronted emerald green pencil skirt that i got from anthro around christmas time (similar here), and i haven't stopped wearing it since. it can be styled literally a thousand ways.

i wore my casual outfit while running errands around town- it was super comfortable and i felt glamorous all day. i paired the skirt with a lacey t-shirt, some brown pointed flats (purchased recently at tj maxx), and my new red purse from target. i had been dying for a red purse ever since i found an amazing rebecca minkoff bag that was quilted and studded and way out of my price range. this one was from target and was about 20 bucks- score! i am also wearing my warby parker (home-try-on) glasses (these ones were my favorite!).
dressy
the sheer cream top from the dressed-up outfit is another gem found in the magic guest bedroom closet, also purchased at forever21 (my family is really into bargain shopping.) it was a little bit long for my liking, so I tied it in a bow instead of the knot I'm sure it was designed for. i wanted to go for a white/black contrasting look, so i wore these valentino rockstud knockoff flats via forever21 (i wasn't lying about the bargain shopping!) that i got on sale for $8 a couple months ago. i borrowed some black bracelets my mom was gifted, put on a necklace of vintage pearls and wore my fancy-pants studded sunglasses (also from forever21…no comment.) a pale pink lipstick (nyx strawberry milk, the best everyday pink lipstick!) and a spectacular marc jacobs bag (borrowed from my mom) put the final touch on a dressed-up look perfect for a wedding reception, a business meeting, or church function.
from brittany:
to dress the skirt up a bit, i threw on some hot pink booties (steve madden from a couple of years ago), and a peplum shirt (that jarman picked out for me for christmas all on his own- so proud!). i added a hot pink belt, a nude clutch and so pretty pearly jewelry. i love that with pencil skirts you can wear your shirts tucked, or untucked.